Discover more from Morning Minute
Lucky Trader is the premier destination for NFT content, tools, and analysis.
Over 6,000 subscribers
Binance Under Attack and the Silver Lining
Crypto continues to be under attack, this time with the CFTC coming after Binance. Are they in real trouble this time and do VPN users need to be seriously worried?
TylerD's Market Summary
GM!
Today's top news includes:
Binance Sued

Yuga drops Legends of the Mara and news of a Gucci partnership

Nakamigos see new ATH

y00ts begin migration

Ticketmaster debuts token-gated ticket sales
---
🚨 The Binance Lawsuit
"4"
That's what Binance founder Changpeng Zhao (CZ) responded on Twitter yesterday, after news broke that the CFTC was suing him and Binance.
That "4" is referencing a previous tweet from January where he laid out his 2023 goals with 4 Do's and Don'ts including "4. Ignore FUD, fake news, attacks, etc."
Is this really just FUD or attacks though?
The CFTC has officially sued Binance and founder CZ, alleging the company knowingly offered unregistered crypto products to U.S. citizens and encouraged compliance evasion via VPN.
If Binance loses the case, they could be out billions in fees and severely limited in their capabilities going forward.
Some are saying it could be a death blow to Binance if they lose.
And those much closer to the case than me feel like the CFTC has a real case here.
1/23 Oh boy
docdroid.net/60YAbCz/cftc-b…
Case is up and it's bad. This is the CFTC attempting to strike *fatal* blow to Binance, and at first read through... I think they actually have really strong chances here of succeeding in toppling the Binance empire.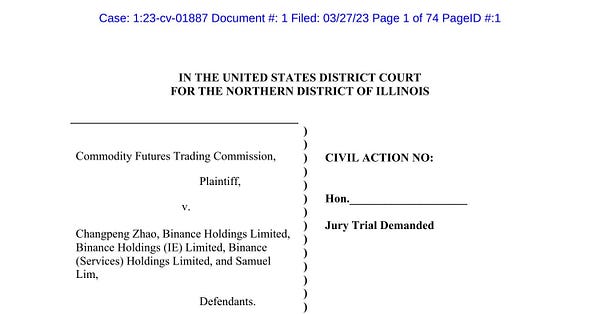 docdroid.net
CFTC BINANCE.pdf
Case: 1:23-cv-01887 Document #: 1 Filed: 03/27/23 Page 1 of 74 PageID #:1. IN THE UNITED STATES DISTRICT COURT FOR THE NORTHERN DISTRICT OF ILLINOIS. Commodity Futures Trading Commission, Plaintiff, v. Changpeng Zhao, Binance Holdings Limited, Binance Holdings (IE) Limited, Binance (Services) ...
The Deets:
The primary issues at hand are that Binance allegedly:
Operated a crypto derivatives trading operation in the U.S.

Solicited customers to spoof their locations through VPNs (virtual private networks) to avoid compliance restrictions

Traded on its own platform with 300 "house accounts" directly or indirectly owned by CZ

Failed to implement appropriate KYC and anti-money laundering controls
The big focus appears to be on bullets 1-2 above, related to Binance effectively operating in the U.S. and getting U.S. residents to use products like leverage trading (i.e. 5x-10x levered future plays) without appropriate permission and against regulation.
Apparently, they have extensive chat records of CZ talking directly on these matters. Those will likely be a key component of the suit.
It does not look great for CZ on a first read of the case.
One component to watch for NFT traders specifically - the handling of the VPN aspect of the case.
There is a bill currently being brought before U.S. Congress called the RESTRICT Act which could effectively call for $250,000 fines for the use of VPN.
It is still being debated if this bill (if even passed) would specifically outlaw VPN usage, but given the high-profile nature of VPN in this Binance case, it is not far-fetched to think the U.S. government will come after VPN next.
The Silver Lining
The CFTC refers to Bitcoin, ETH, litecoin, tether, and Binance USD explicitly as commodities in the lawsuit.
Commodities /= Securities
This is a big deal for the SEC and its recent crackdown calling all cryptocurrencies (most notably ETH) securities.
Granted, it should not be a surprise that the "Commodity Futures Trading Commission" is calling crypto a "commodity" while the Securities and Exchange Commission calls crypto "securities."
But if this case is ruled on in Federal Court and a precedent is set with these cryptos ruled as commodities, it certainly will be a setback for Gensler and the SEC.
So even in the situation where Binance loses this case, which will be a blow to the larger crypto space, a ruling on primary cryptocurrencies as commodities could still be a key win for the space.
---
🤯 Yuga and 2 Bombshell Announcements for The Otherside
Otherdeed prices were tumbling after the Second Trip. 
Traders were exiting with the popular thought that there would be nothing to look forward to for some time with that major event completed on Saturday.
Well, they were wrong. And paid the price.
Yesterday Yuga and The Otherside account major 2 major announcements:
These announcements would be enough for most projects to last a month, and Yuga decided to drop both on the same day.
Let's start with Legends of the Mara.
TLDR: Legends of the Mara (LOTM)
Here's a quick summary:
It's a new 2d strategy game exploring origins and lore of The Otherside and its characters

The game is fueled by ApeCoin

Each Otherdeed holder gets 1 free Vessel NFT to claim

Vessels serve as meteor shelters for Shades, have different functions (hunting, farming or enchanting), and grow into Maras and even rarer Kodamaras

Kodas decouple from Deeds and will have hunting, farming AND enchanting ability at higher levels than Vessels

The claim & decoupling start "soon", and the game begins in May
Why It Matters:
The LOTM game is a major way to keep Otherdeeds holders engaged and give them abilities to play and earn during the lengthy buildout of The Otherside full game.
The market liked the news, with Otherdeeds rallying 26% to 1.73 ETH.
Yuga x Gucci
Gucci is not new to the NFT space and has even collaborated with Yuga-friendly brand 10KTF previously on its Gucci Grails project.
The move cements their focus on investing in the web3 and metaverse, along with giving more status to Yuga as a top player in the space.
One key to watch - Yuga did not break this news. The Otherside account did.
So does this mean that the Gucci impact will be felt more in that Yuga vertical? Are the winged helmets airdropped to the 2nd trip winners going to be Gucci-branded?
My bet is yes.
This will be an exciting one to watch play out.
---
🚚 What else is happening in NFTs?
Here is the list of the major headlines from a slow weekend in NFTs:
Trading volume came in just over 23k ETH both days this weekend, down about 10% from Sunday

y00ts have officially begun the migration to Polygon, with over 6,000 moved so far; the floor is currently 1.83 ETH with about 60 ETH in volume (mostly on Magic Eden Polygon)

Nakamigos continued to surge Monday and lead trading conversations, currently holding at 0.18 ETH and seeing a new ATH sale of 16 ETH

Mocaverse announced the launch of Mocana Odyssey, featuring partner experiences with companies across Animoca's portfolio

Jenkins the Valet announced a snapshot coming March 31 for holders of Writer's Room NFTs and Bored Apes that were licensed to the Bored & Dangerous collection to claim funds in April
---
🌎 Around Crypto and Web3
A few other Crypto and Web3 headlines that caught my eye:
The crypto market fell on the Binance news then rebounded a bit; BTC -2.3% at $27,200; ETH -3% at $1,714

Coinbase is evaluating "flatcoins" as a new version of potential stablecoins tied to CPI and inflation that will not lose value over time (will rise in value with the cost of living)

Ticketmaster has successfully piloted token-gated concert ticket sales with Avenged Sevenfold, allowing NFT holders first access for preferred seats

Polygon Labs announced the launch of Polygon zkEVM Mainnet Beta, a permissionless, public, and open-source platform for Ethereum scaling, and Vitalik performed the first transaction on the platform
---
🚀 NFT Total Volume
Otherdeed (7,061 ETH, 1.74 ETH Floor)

Wrapped CryptoPunks (2,4630 ETH, 61.6 ETH Floor)

BAYC (1,959 ETH, 60.3 ETH)

Nakamigos (1,415 ETH, 0.18 ETH)

MAYC (973 ETH, 12.4 ETH)
📈 NFT Floor Price Increase
SuperNormal by Zipcy (62%, 0.39 ETH Floor)

Otherdeed (26%, 1.72 ETH)

DigiDaigaku (12%, 5.3 ETH)

Nakamigos (11%, 0.18 ETH)

Captainz (7%, 5.04 ETH)
---
🗓 Upcoming NFT Mints and Reveals
It feels like we are at the point of the cycle where new mints slow down.
There's only 2 mints on the schedule today, and one is on the WAX blockchain.
Hanna-Barbera x Funko Digital Pop! are selling 36k packs at 2 price points of $9.99 and $29.99. Learn more at their site if interested.
Then we have a new deflationary open edition from the Lazy Lions team called Glitch's Army: Dark Energy.
The price is a bit steep at 0.02 ETH, but given the success some other struggling projects have had with OEs (i.e. Creatures), perhaps this could still work out for the Lions.
Glitch's Army: Dark Energy (8:00 p.m. ET); 0.021 ETH

Hanna-Barbera x Funko Digital Pop! Packs (TBD)
---
Enjoy this write-up? Follow along with me on Twitter @tyler_did_it or reach out via email tyler.warner@luckytrader.com.
For all volume and floor price data, see Lucky Trader's Project Rankings page.
For all upcoming mints, see Lucky Trader's Project Schedule page.